BEST VALUE
X-Force [GTA] – Lifetime License
X-Force Best known for it's user-friendly UI and features that makes the gameplay experience truly amazing. It currently supports LUA scripts as well.  With frequent updates & bug fixes, this is one of the best menus to have in your collection.
Fun Abilities
Advanced Spoofing
Advanced Protections
Trolling Options
Vehicle & Weapon Modifiers
Supports 3 different UIs
Supports LUA scripts
World Options
License Type : Lifetime (Of the Menu)
Due to the nature of the product, we do not allow chargebacks nor refunds. We also don't have control if the menu developer's decide to shutdown as we are mere resellers. MindStop does not condone usage of Mods Online. Kindly read our Terms and Conditions.
Introduction to X-Force Mod Menu
It has many options and is currently one of the best mod menus. From one of the best protections against other modders to many stealth money options, everything you'll ever need is there. Because of X-Force's experienced developers, we can be sure that the menu will never be detected and will always work, even after new update of the game.
X-Force Mod Menu Feature List : https://pastebin.com/6Cu4KZ9A
Community Discord
You can also join X-Force Discord, where you can get supported by our fast and competent support team. Sometimes you'll even have the chance to become a part of X-Force team by applying as a supporter. If you need help, you can also speak to 2600 users.  On the X-Force discord, you can also report bugs and make suggestions for new options that will get added in later updates. You can join discord after redeeming key here https://dashboard.xforce.menu/
Looking for something else?
Already own X-Force or looking for something else? Checkout 2Tak1 Mod Menu here : 2Take1 VIP – Lifetime License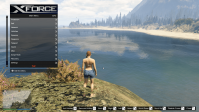 X-Force - Simple & Powerful
A well crafted menu which provided frequent updates & bug fixes
PROS
Stability
LUA Script support
Few Unique Options like Map Mods, Zombie Mini Game
Trolling Options
Easy to use
CONS
LUA script crashing issues
No Instant Money recoveries
Some features bugged (Non-essential)
User Reviews
Only logged in customers who have purchased this product may leave a review.

X-Force [GTA] – Lifetime License